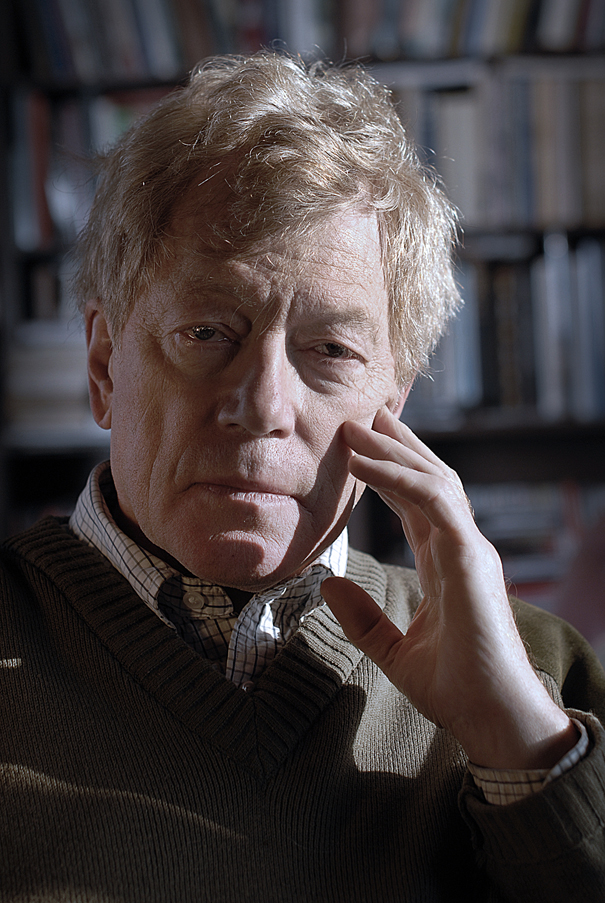 C.S. Morrissey argues that Roger Scruton, because of his analysis of the sacred purpose of beauty in human culture, is our greatest philosopher writing today.
BY C.S. MORRISSEY

"The road of conversion, the way of humility, of love, of the heart, the way of beauty" - this is the path we need to be on, said Pope Francis at morning Mass on Friday, April 19, in the chapel of his residence, the Domus Sanctae Marthae.

How can we find this path of beauty? "The saints are those who lead the Church forward!" answered Pope Francis in his homily.

Blocking the way of beauty, said the Pope, is what he called the way of ideology. "Today let us pray to the Lord for the Church: that the Lord might free her from any ideological interpretation and open the heart of the Church, our Mother Church, to the simple Gospel, to that pure Gospel that speaks to us of love, which brings love, and is so beautiful! It also makes us beautiful, with the beauty of holiness."

Francis offered Mary as a beautiful model for us to imitate. Mary shows us how to make "the response of humility, of one who welcomes the Word of God with one's heart."

Because it is the heart that best understands beauty, Pope Francis drew a contrast in his homily between Mary and those Pharisaical people who pride themselves on their own ideas and schemes.

Such people may even tell themselves that their pet projects are serving God. But their ideas are in fact monstrous, because they are formed "only with their heads. They do not know that the Word of God goes to the heart, do not know of conversion. They are the great ideologues."

Who are these people who are in love with their own ideas and schemes? You can glimpse their real nature in those moments when their mask of niceness suddenly vanishes. When their habitual flattery is suddenly shown to be phony. You can see that in fact their hearts are hardened, because of the cold way they can treat certain people. Behind their backs, these Pharisees judge and condemn. They assassinate the reputations of whomever they feel threatens their pet schemes.

Pope Francis calls such people "ideologues," a word that reflects how much they are in love with their own head-based "ideas," rather than using their hearts to love absolutely everyone in a deep and sincere way.

The strange thing is that such ruthless people usually appear beautiful or attractive to others. But theirs is a counterfeit beauty, a superficial sentimentality that rests upon an ideological inability to perceive real beauty. But it attracts others to share in their chosen blindness. The fruit of their false ideas is usually a holy war upon designated scapegoats.

Such people confuse their own schemes with the true beauty of holiness. With the best intentions in the world, they think they are doing great things. But their fanatical frame of mind makes them incapable of seeing how ugly their deeds really are.

Ideology is the name for this, for the intellectual posture that alienates the head from the heart in the Pharisaical way. Roger Scruton, because of his analysis of the sacred purpose of beauty in human culture, is arguably our greatest philosopher writing today. Echoing Pope Francis, Scruton rebukes those intellectuals who, with their heads full of schemes, create a heartless culture.

Our hearts long to dwell with beauty. "Always however there is the nagging presence of the intellectual, who urges us to stand outside community in an attitude of critical negation. Just look at the intellectual products of our time, and ask yourself what their fundamental message is for ordinary humanity," wrote Scruton last year. "The art that is applauded by our art schools and official galleries is uniformly an art of transgression, of defiance, in which the seedy, the random or the violent are put forward as the repositories of true aesthetic value. This transgressive posture is one in which beauty is regarded neither as a value nor even as a possibility."

The problem, according to Scruton, is that these intellectual ideologues are incapable of speaking to the longings of the human heart. Their own vanity leads them to think that they know best what all other people need. But their crazy ideas only inflict wounds on the hearts of others.

"The assumption has arisen among the intellectual class that the pursuit of beauty will now result only in kitsch - in other words in fake art, expressing fake emotion. Since there is no real way to belong to the world around us, the critics say, it is only the experience of detachment, of non-belonging, that can achieve genuine artistic expression," said Scruton.

But anyone who knows real love knows that these critics are liars.

Unlike the cold-hearted "love" of such Pharisaical ideologues, Pope Francis said at his Friday Mass that "the Word of Jesus goes to the heart because it is the Word of love; it is a beautiful word and brings love, makes us to love."

"These ideologues cut off the road of love, and also that of beauty," said the Pope. Ironically, such ideologues think they know better about beauty than other people do. But the Pope pointed out that their notion of beauty is, in fact, "all a matter of intellect!"

These Pharisees, these ideologues, said Francis, "pretend to understand the Gospel with their heads alone," whereas they still need to place their hearts "on the road to conversion, that conversion to which Jesus calls us." Too much in love with their own ideas, they do not see that "the path of love, the way of the Gospel, is simple: it is the road that the Saints understood."

"The ideologues falsify the gospel. Every ideological interpretation, wherever it comes from," said the Pope, "is a falsification of the Gospel. And these ideologues - as we have seen in the history of the Church - end up being intellectuals without talent, ethicists without goodness - and let us not so much as mention beauty, of which they understand nothing."

C.S. Morrissey is an associate professor of philosophy at Redeemer Pacific College, which has invited Roger Scruton to make a rare trip from England to Vancouver to give a lecture on Beauty, take questions, and sign books at 7 p.m. at Regent College on Sunday, May 5. More information at moreC.com/Scruton.