Pope Francis recalls first love on the edge of eternity
BY C.S. MORRISSEY
Emily Blunt and Tom Cruise star in a scene from Edge of Tomorrow. C.S. Morrissey calls the film a "work of art about the transcendent experience of first love." (Photo: Warner Bros. / CNS)
In the new Tom Cruise film Edge of Tomorrow, we have not just a fun action movie but also an unusually perceptive work of art about the transcendent experience of first love.
"How is your first love?" asked Pope Francis on Friday morning, June 6, in his homily at Mass in Casa Santa Marta. In the Gospel of John, "Jesus asked Peter three times if he loved him." Peter "was distressed," but Jesus had a special reason for repeatedly asking, said the Pope.
"This question that Jesus asks of Peter takes him back to his first love. Never forget your first love. Never," said Pope Francis.
The Pope challenged his listeners to reflect on their daily experience: "Is it like first love? Am I as in love today as on the first day? Or do work and worries lead me to look at other things, and forget love a little?"
Jesus wanted to take Peter back to the experience of their original encounter, said Francis, "to the first love."
The experience of falling in love at a first encounter can be a transcendent experience. To anyone who has had such an experience, the meaning of one's entire existence is felt in that moment. A sense of one's eternal destiny is intimated in the instant.
In Edge of Tomorrow, the everyday world is being attacked by an alien threat that transcends space and time. Major William Cage (Tom Cruise) has to learn how to save the world from the powerful invaders. This literal meaning of the story is sufficient for a well-crafted, epic science fiction adventure.
But its symbolic meaning, of a spiritual struggle, gives the film a special interest. The story's context is a malevolent spiritual threat transcending our everyday world. William is continually summoned to awaken to this threat. His eternal destiny is bound up with acquiring the knowledge to defeat it.
This uniquely personal knowledge is learned only through the experience of love. Every time William wakes up in the story, he sees an image of Sergeant Rita Vrataski (Emily Blunt), "the Angel of Verdun." This fleeting image signifies how he is being eternally summoned to meet her in person. And there will be nothing more significant than their first encounter, the moment in which time and eternity meet.
The film's director, Doug Liman, repeats this magical first encounter for us in a delicate and beautiful way. The entire movie's plot is devoted to revealing the eternal significance of this moment. In the vision the camera gives us, of Rita finishing her yoga exercise routine and looking up at William, the transcendent meaning of their encounter is communicated to us in an indelible way.
Such experiences can hardly be put into words, argues the British philosopher Roger Scruton. But their reality, as is shown both in our own experience and also through works of art, is of supreme significance.
In his interview with Paul Kennedy on the CBC Ideas radio program, Scruton said, "The transcendental is revealed to us, in all kinds of ways." It is not "something that is forever inaccessible. On the contrary, I want to say that this is something that is constantly intruding into our lives, even though we don't necessarily have the words with which to express it."
We could describe, for example, what William sees when he meets Rita. But simply to describe Rita's exercise movements, as being from Mayurasana (Peacock Pose) to Chaturanga Dandasana (Four Limb Staff Pose) to Bhujangasana (Cobra Pose) or Urdhva Mukha Svanasana (Upward-Facing Dog), is clearly to miss the true meaning of what the camera shows us.
The personal significance of what William perceives in the moment can only be revealed to us by the film's repetition of it. The unfolding story slowly communicates, both to William and to us, the ineffable, transcendent meaning of the encounter.
In his interview, when pressed by Kennedy to illustrate transcendence, Scruton said "a serious work of music." For example, "a late quartet by Beethoven" shows how transcendence can be incarnated in sensuous form. The music "exists in a work of appearances," because "it is something we hear." There is "no hidden part of it" because it is clearly audible. Yet its sounds also communicate something beyond words.
Such musical experience is a "simple example of the transcendental revealing itself in the ordinary world," said Scruton. But "love at first sight is another instance."
In a lecture in Montreal recorded in April, now available online through CBC Ideas, Scruton argues: "Works of art present meaning in sensory form, but the meaning transcends the form, containing intimations of the supernatural. We cannot understand the music of Bach, the painting of Botticelli, or the poetry of Wordsworth if we do not see that these works are about the transcendental and the sacred, and that they address us from a place beyond the horizon of the empirical world."
By remembering our first love, therefore, we can, as Scruton insists, "come to understand the transcendental as a real presence in our lives," because "anybody who goes through life with open mind and open heart will encounter these moments of revelation, moments that are saturated with meaning, but whose meaning cannot be put into words. These moments are precious to us."
Both the Pope and the artist ask us to remember these moments. They are showing us we live, not as puppets on the edge of tomorrow, but as persons on the edge of eternity.
C.S. Morrissey is an associate professor of philosophy at Redeemer Pacific College.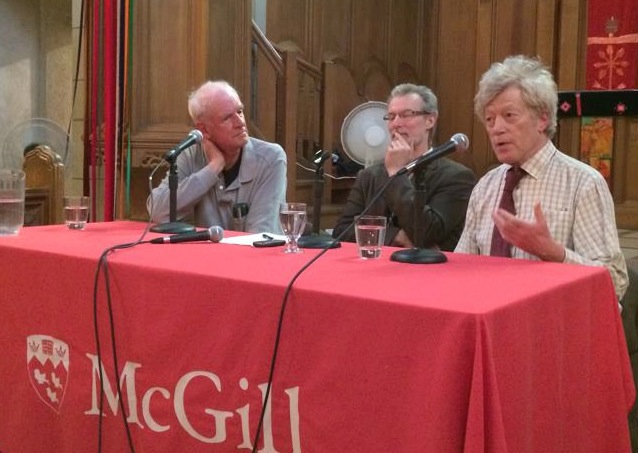 Charles Taylor (left), moderator Douglas Farrow, and Roger Scruton discuss philosophy at McGill University April 13 as part of the conference called "Thinking the Sacred with Roger Scruton". (Photo: C.S. Morrissey / The B.C. Catholic)